Houston Area Live Steamers, Inc., is a 501(c)(3) Charitable Organization. Your donations are greatly appreciated and are Tax deductible.
INTERESTED IN JOINING OUR ACTIVITIES?

Track & Weather Updates now available on Run Days!
HALS has established a call-in number so that on those rainy days,
you can check to see if the trains are running.
The number for the HALS Status Line is (281) 758-8012
You can not leave a message as this line is dedicated to providing train status on Public Run Days.


Check out this FUN video showing Run Day and other HALS activities!
Where in the world are all the Railfans?
Check back often to see where the vistiors are connecting from
Globe added July 28, 2013
Locations will be marked for each visit
If your seeing the 3d Globe, then you can Click the enlarge button,
botton row, last button to see a 2D map that you can mouse over the locations
and see the City-State or City-Country the visit orginated from.
If your seeing the 2d map just click on the map for location info.

Visit us on Facebook

HALS gratefully acknowledges the generosity and support of Commissioner Steve Radack and the dedicated employees of Harris County Precinct 3.

Commissioner Radack's vision and dedication to Harris County and the Houston Area Live Steamers has helped Harris County become one of the finest Live Steam destinations in the United States."
2006 Tour of Houston Area Live Steamers
Subjects filmed on 7-1/2", 4-3/4" and Gauge 1 track
Stephen and Scott Balkum (Videographer)





M E N U

About HALS
What is HALS?
Map to the R.R.
Track Plan
Public Run Days
Run Day Info
2016 Schedule
Run Day Photos
FAQ
Email Reminder
Club Activities
Club Photos
Steamers
Diesels
Gauge 1 Photos
Engines
Projects
SWLS Meets
Lodging
Visiting Livesteamers
Membership
Links
Web Links
Classified Ads
Contact Info
Contact Us
Our Guest Book
Donate to Hals
Members
Members Only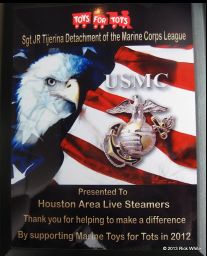 Hals
Supports ToysforTots

Download our newsletter.
See what is happening at the track.

Feature Photo Wallpaper Collection